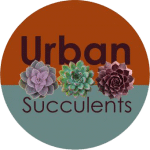 Looking for a great selection of succulent plants? Urban Succulents offers a variety of succulent plants for sale online. Let us help you source the succulent plants you need for your project at competitive prices. Succulent plants are long lasting, durable plants that can be used outside in semi-arid climates or to make container gardens, succulent wreaths, living walls or in other creative ways.
We offer a large selection of indoor succulent plant varieties for sale through our online store including echeveria, aeonium or crassula varieties. Our succulent plants come in 2", 2 ½", 4" or larger pots. We ship most of our plants in their growing pots with soil for easy replanting. Our succulent plants work great in container gardens. One of the secrets to a bountiful container garden is to use a variety of succulents and to plant them close together minimizing open spaces for that full robust appearance.
For planting outdoors, succulents are happiest with limited watering and partial to full sun. Most succulent plants self propagate and will fill in areas as they grow. Succulents have shallow root systems so if you live in an area that experiences temperature that dips below freezing simply up root them during the cold months and replant them in the spring.
Find out more about some of our local delivery areas:
Whether you're looking for succulent plants for your home, wedding favors, or an event you are planning Urban Succulents can help. Simplify planning for your wedding by purchasing everything you need from one source. We can custom design your succulent wedding bouquet, succulent boutonniere, succulent corsage, succulent cake toppers and succulent wedding favors just for you. All of our designs are the work of Marialuisa Kaprielian, who saw that succulents are plants that have the beauty of a flower and come in a variety shapes and colors for creating living arrangements and florals that can be replanted.
Let us bring the best selection of succulent plants to your door by e-mailing or calling us today at (619) 808-5662.