Succulent plants have recently exploded in popularity and are now becoming everyone's dream plant. 
Just what are succulents? These are drought-resistant plants, usually seen with swollen, fleshy leaves and stems. They are able to retain water for long periods of time, making them a very low-maintenance house plant.
Interested in exploring the wonderful world of succulent arrangements? You've come to the right place! 
Orange County Succulents and Cactus Delivery
At Urban Succulents, our succulent and cactus arrangements have an impressive array of plants for every preference under the sun.
Our cactus arrangement delivery is extremely popular! These types of succulents have been picking up more and more traction with homeowners, to the extent that some wholly prefer cacti over flowering plants.
The best part is that we deliver them right to your doorstep.
Orange County Succulent Arrangements
At Urban Succulents, our succulent arrangements come in echeveria, aeonium or crassula varieties for your Orange County home!
View our colorful collection, we guarantee you'll find something you love!
Many of our products come with free succulent delivery services. We ship to all areas in the US, including sunny Orange County. 
How fast do succulents grow? This depends on the species. Echeverias, for instance, don't grow tall as much as they do wide. These thrive especially during the spring and summer. With the right conditions, a 2-inch echeveria can grow to around 7 inches in width within the year. 
Orange County typically sees temperatures that hang around 45°F to 85°F. The warm arid climates are perfect for growing and propagating succulents. 
Most succulents actually do very well in this temperature range. This is why OC has seen a surge in succulent planters in the last few years. 
If you find the temperature dropping below 45°F, simply unroot your succulent and replant it outside when spring hits. Because succulents are shallow root plants, it takes very little effort to do so. 
Take advantage of our free succulent delivery services to your Orange County home. 
Our succulent and cactus arrangements are ready to ship at short notice!
Succulent Wreaths
Why not go one step further and get yourself a hanging succulent garden?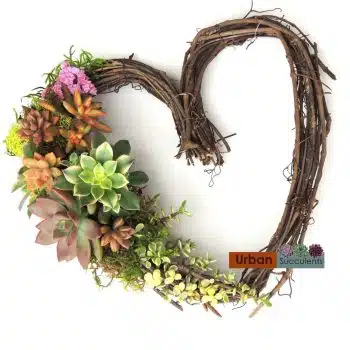 $

59.95
Grape vine heart wreath is made with moss and decorated with succulents, it measures 10 inches across.
Add to cart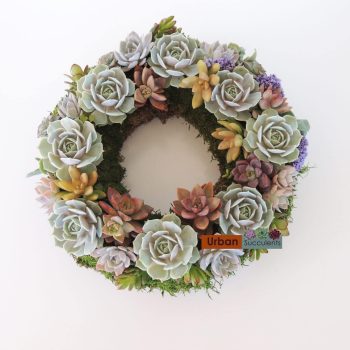 $

115.00
This Succulent Wreath is made with a wire frame and is filled with a variety of succulents that are grown in Southern California.  It's 15" in diameter and is approximately 4 -5" high. It can be used as a table centerpiece or can hang on a door or wall.
Add to cart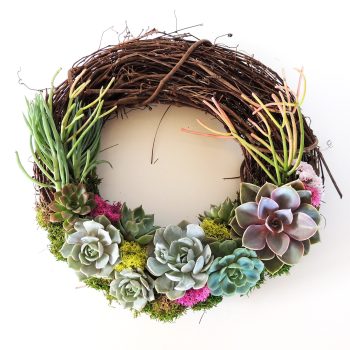 $

72.00
This Succulent Wreath is created using  grape vine and a variety of succulents that are grown in Southern California. For the holidays we accent this wreath with Christmas balls.  It measures 14" in diameter and is approximately 4" high.
Add to cart
Succulent wreaths go over really well during Christmas time. However, these are year-round pleasures and require very little attention to thrive. 
To prevent rusting, we suggest hanging your wreath on galvanized hardware. If you're thinking about pinning the wreath to a wooden door, attach a piece of plastic behind the wreath to prevent the door from picking up any moisture. 
You'll need to water your wreath every 3 to 10 weeks when it starts to look dehydrated. Do so by immersing it in a bucket of water for an hour. 
Succulent Bouquets
Regular flowers don't come close. Succulent bouquets have captured the imagination of every avid botanist – for good reason too!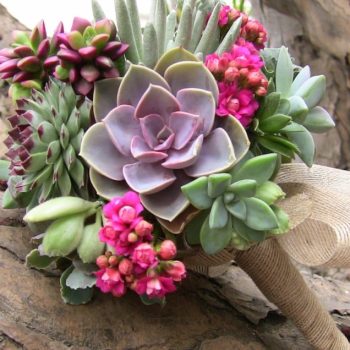 $

180.00
Succulent bouquet created with green echeverias, perle von nurnberg, accented with pink kalonchoe blossfeldiana. This bouquet features senecio, hen and chicks, cotyledon tomentosa and anacampseros. The stems are wrapped in jute ribbon, twine or white satin ribbon.
Bridal Bouquet measures approximately 8 inches in diameter. $180.00
Add to cart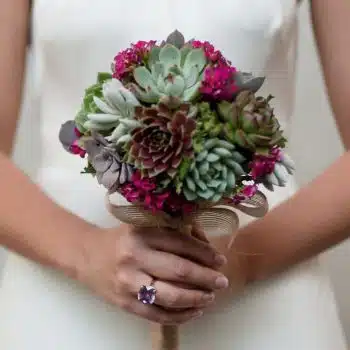 $

150.00
Petite Succulent bouquet
This petit succulent bouquet features a sempervivum with light blue and green succulents. It is accented with fuschia calandiva flowers
Add to cart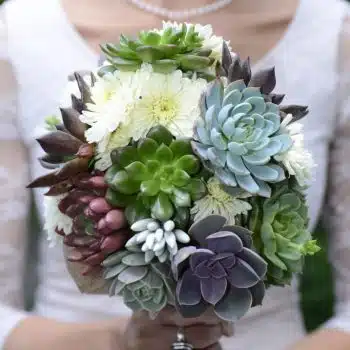 $

185.00
Mixed Succulent Bouquet. Created with two dozen succulents in a careful selection of colors ranging form minty blue to bright green and mauve to deep purple to lavender colors; accentuated with white mums. The stems are wrapped in jute ribbon, twine or white satin ribbon.
Bridal Bouquet measures approximately 10 inches in diameter.$185.00
Brides maids bouquets may be created with 3 succulents form the above selection swatted in babies breath.
Shipping charge is calculated to travel from San Diego to Texas and States north of Texas. Please contact me with your zip code so I can adjust shipping charge accordingly.
Add to cart
Succulents are visually breathtaking, especially when grouped with other succulents! Get a stunning combination of colors to make your bridal journey even more memorable. 
You may even choose to add on some fresh (or fake) flowers to your succulent bouquet to give it a whole new look. 
Urban Succulents offers a wide range of handmade, unique succulent bouquets.
Succulent Centerpieces
You may have noticed these beautiful, vivid arrangements at your doctor's office or a friend's place. You may have even admired their unique look and how they add to the ambience.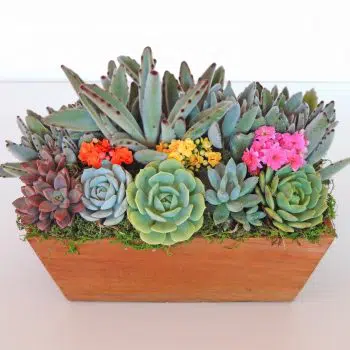 $

120.00
This succulent arrangement features Kalonchoe Tomentosa which have long velvety leafs and are surounded with a nice mix of rooted succulents.  Wood box measures 12 x 7.5 x 4 For pieces that can please shipped check our
Succulent gifts
section.
Add to cart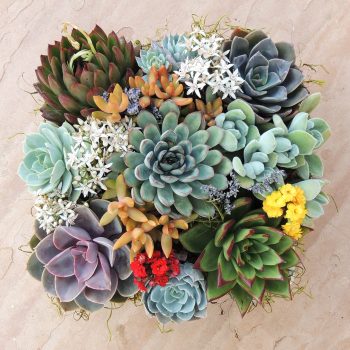 $

117.00
Succulent Arrangement in 8 x 8 Ceramic Box
Add to cart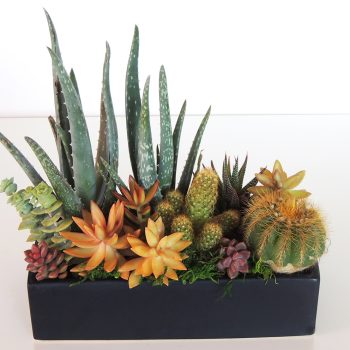 $

140.00
Combination of echeverias, aloes, cacti, haworthias and sedums in a 12x7 ceramic container.
Add to cart
Succulent centerpieces are truly a delight. They find themselves perfectly at home as windowsill art, patio arrangements and even interesting decor at a party or wedding. 
Succulents are known for their hardiness. These are super easy to care for, and need to be watered once every week. 
A good indicator to look out for; feel around to see if the soil is still damp. If it is, you can delay watering it until it has dried out completely. 
Make sure that your pots have a good drainage system. Most succulents hate too much water. 
For the best results, you may also want to consider using a good organic fertilizer (half dose) and give it to your plant at the start of the growing season.
It's time to get your own arrangement! Ask us for a free succulent plant delivery to your Orange County home. We're happy to oblige.
Questions? You can email us or call us today at (619) 808-5662.