Succulent plants are gorgeous to look at. You commonly see them as patio fixtures or on windowsills. Succulent centerpieces make a great statement in professional and casual settings. The best part? They are very easy to take care of!
Urban Succulents has a stunning array of plants in several shades and sizes – all of which will look fantastic in your home.
Whether you go for a single plant or an assortment, these succulent arrangements require very little attention. You don't need a green thumb to watch them flourish. 
Succulent Gifts
Thinking about a succulent gift? You've come to the right place! 
Our collection accommodates all your needs; bridal showers, birthday parties, party favors, corporate events and more.
There are very few rules to keeping a succulent alive. These plants come in stunning colors; red, lavender, green, purple, yellow to officially earn you the title of best gift giver!
Los Angeles Succulents and Cactus Delivery
Sunny Los Angeles isn't just the City of Angels, it's also the City of Succulents!
The temperature here usually lives around 48°F to 85°F – the sweet spot for succulents to grow.
You can't deny that succulents give your home that exotic edge. As we've said before, caring for your succulent plant is very easy. These are native to drought-prone areas.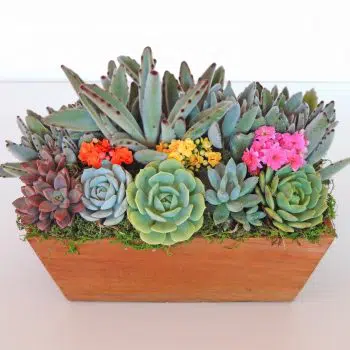 $

120.00
This succulent arrangement features Kalonchoe Tomentosa which have long velvety leafs and are surounded with a nice mix of rooted succulents.  Wood box measures 12 x 7.5 x 4 For pieces that can please shipped check our
Succulent gifts
section.
Add to cart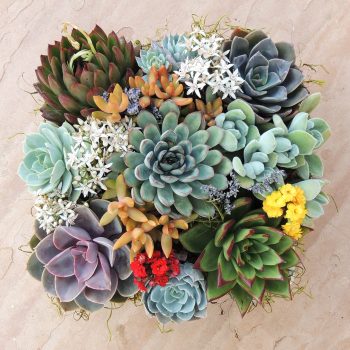 $

117.00
Succulent Arrangement in 8 x 8 Ceramic Box
Add to cart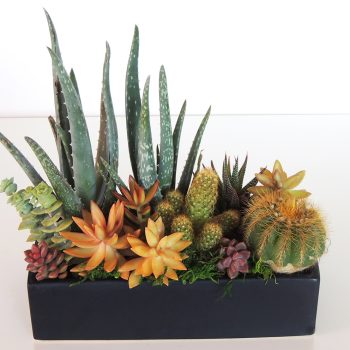 $

140.00
Combination of echeverias, aloes, cacti, haworthias and sedums in a 12x7 ceramic container.
Add to cart
How do you care for outdoor succulents? You want to give your succulent at least 3 hours of direct sunlight every single day. It is ideal to do this in the morning. Afternoon light is harsher and could damage your plant. 
When watering your gorgeous succulent, make sure to pour it on the soil, avoiding the leaves. Always let the soil dry before you water it next.
Los Angeles is becoming home to more and more species of succulents, and the reason is clear. These plants thrive in LA weather. They are so much easier to grow than flowering plants that don't do well in arid climates. 
And because succulents are shallow-rooted, you can easily transplant them in various places in your Los Angeles home, without breaking a sweat!
Succulent Arrangements
Urban Succulents offers plants for all moods, decors, and landscapes. Even a brief glance through our succulent arrangements will reveal something you love. 
What do you need? We have it all, just say the word – Succulent centerpieces, succulent cactus arrangements, succulent wreaths, and succulent bouquets in combinations of echeveria, aeonium or crassula.
Here at Urban Succulents, we don't follow a one-size-fits-all philosophy. Custom orders are available. Mix and match different succulent species to get your own unique creation!
Cactus Arrangements
Have you always wanted to own a cactus? Cacti are a type of succulent that bring a very unique look to your collection. 
Our cactus selection for delivery is among one of the best, offering sustainable plants that look good indoors and outdoors.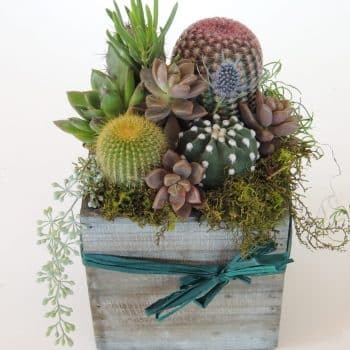 $

48.95
This arrangement will look great inside or outside.  We create it with a nice mix of cactus and succulents to create a special one-of-a-kind gift.
Add to cart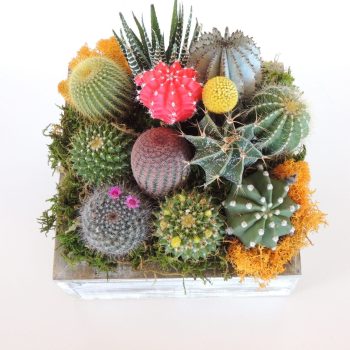 $

89.95
Created in a 7 x 7 wooden box this cactus centerpiece has a variety of cactus and accented with colorful moss.   This arrangement can be displayed indoors or outside.  This is a great way to say "thinking of you" or "thank you"! A plastic lined wood box without drainage needs watering about every other week in summer and less in winter. Protect the composition from excessive rainfall and rotate on a regular basis to balance light exposure. Box measures 7.5 x 7.5 x 4
Add to cart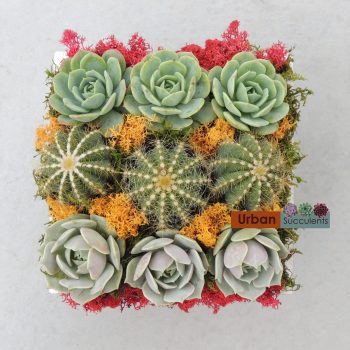 $

68.00
Created in a wooden box this succulent centerpiece has a variety of succulent rosettes and is accented with flowers and colorful moss.   This arrangement can be displayed indoors or outside.  This is a great way to say "thinking of you" or "thank you"! Box measures 7.5 x 7.5 x 4
Add to cart
We love plants as much as you do! Our cactus arrangements are lovingly hand-planted, and come in a beautiful combination of cactus and moss. You will even see some amazing colors bloom on your cactus during the springtime. 
All our plants are grown locally in Southern California, and shipped to you directly. You don't need to move a finger to transform your house into a botanist's paradise!
Succulent Plant Delivery to Los Angeles
Our Los Angeles succulents and cactus arrangements include some of the best succulents in the country in every breathtaking size and shade imaginable!
If you're feeling experimental, you can even gently "stress" your succulent to have it change into a different color.
We recommend doing this with caution so as not to damage the plant. When exposed to sunlight, these plants do become "stressed" and change color. Windows facing south are great to let your plant receive optimal light and grow healthy. 
We're now offering free succulent delivery services to Los Angeles; you simply have no reason to say "no" to these beauties!
Questions? You can email us or call us today at (619) 808-5662.