$31.95
Price Includes Shipping
Your beloved will enjoy this growing gift well beyond Valentines day or any special day.
This heart arrangement has three succulent plants happily planted in a glass shaped heart that measures 6" in diameter.  We accent it with colored moss and/or flowers.
A glass container without drainage needs watering about every other week in summer and less in winter. Protect the composition from excessive rainfall and rotate on a regular basis to balance light exposure.  
Note: There are differences in the pieces we ship depending on what succulents are in season or their availability at the time of purchase. If you prefer a certain accent color, please let us know by leaving a note at checkout indicating your preference.
Out of stock
Email to a friend
Related Products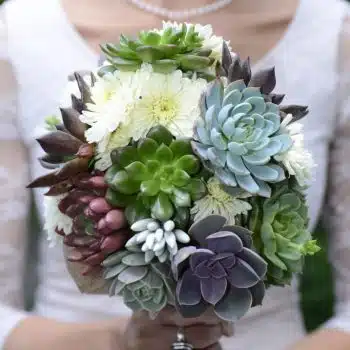 Mixed Succulent Bouquet. Created with two dozen succulents in a careful selection of colors ranging form minty blue to bright green and mauve to deep purple to lavender colors; accentuated with white mums. The stems are wrapped in jute ribbon, twine or white satin ribbon.
Bridal Bouquet measures approximately 10 inches in diameter.$185.00
Brides maids bouquets may be created with 3 succulents form the above selection swatted in babies breath.
Shipping charge is calculated to travel from San Diego to Texas and States north of Texas. Please contact me with your zip code so I can adjust shipping charge accordingly.
$

185.00
Add to cart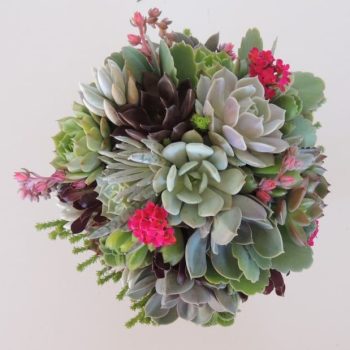 Succulent Bouquet. Created with 16-20 succulents  in all different sizes accentuated with pink kalonchoe.
Bridal Bouquet  bouquet measures approximately 9.5 inches in diameter. $195.00
Bridesmaid Bouquet measures 7.5 inches. $165.00 Please call or e-mail me for specifics -colors and size
$

210.00
Add to cart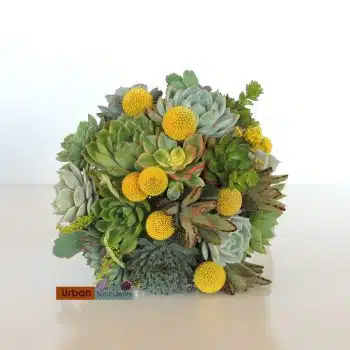 This succulent bouquets is created with green and blue succulents and accented with crespedias (billy balls).  This bouquet is great for any time of the year.
$

170.00
Add to cart