$31.95
Price Includes Shipping
Your beloved will enjoy this growing gift well beyond Valentines day or any special day.
This heart arrangement has three succulent plants happily planted in a glass shaped heart that measures 6" in diameter.  We accent it with colored moss and/or flowers.
A glass container without drainage needs watering about every other week in summer and less in winter. Protect the composition from excessive rainfall and rotate on a regular basis to balance light exposure.  
Note: There are differences in the pieces we ship depending on what succulents are in season or their availability at the time of purchase. If you prefer a certain accent color, please let us know by leaving a note at checkout indicating your preference.
72 in stock
Email to a friend
Related Products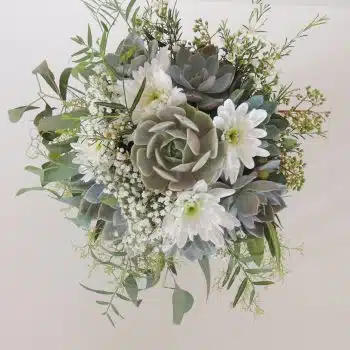 Sage and soft pink bouquetCreated with 15 sage color succulents in different sizes,  and soft pink or coral accents. This bouquet has a semi wild style with spraying eucalyptus, finished in cream or nude double sided bridal satin ribbon, or with jute natural fiber ribbon.Bridal Bouquet measures approximately 9 inches in diameter. $180.00
This bouquet is available with white, yellow, peach or pink accents. Bridesmaid bouquet is shown in last picture.
$

170.00
Add to cart