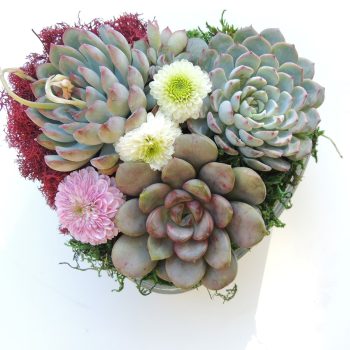 $

31.95
Your beloved will enjoy this growing gift well beyond Valentines day or any special day.
This heart arrangement has three succulent plants happily planted in a glass shaped heart that measures 6" in diameter.  We accent it with colored moss and/or flowers.
A glass container without drainage needs watering about every other week in summer and less in winter. Protect the composition from excessive rainfall and rotate on a regular basis to balance light exposure. 
Note: There are differences in the pieces we ship depending on what succulents are in season or their availability at the time of purchase. If you prefer a certain accent color, please let us know by leaving a note at checkout indicating your preference.
Add to cart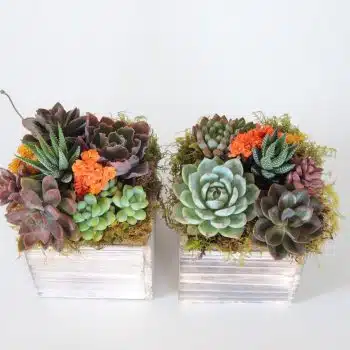 $

84.95
Looking for anniversary gifts? This set of two Succulent arrangements.  Each arrangement comes in a 5" x 5" x 5" wood box with a variety of succulent rosettes,with colorful accent moss and/or blooms.  It can be kept indoors or outdoors and needs little care. Lots of natural light and occasional watering make it an ideal addition to any space.
Add to cart