$50.00
Price Includes Shipping
This listing is for a sample for possibly future order of the items below:
This sample will be in a plastic container that has been spray painted black.
*************************************************************
This succulent centerpiece in a 10″ plastic dish is composed with four 5-inch succulents and filler moss
40 Succulent arrangements @ $70.00 each  Total 2800.00
Since the event is on Monday September 11 and 12 the shipment has to be delivered and opened on Friday September 8th
********************************************
A plastic box without drainage needs watering about every other week in summer and less in winter.
Protect the composition from excessive rainfall and rotate on a regular basis to balance light exposure.
Out of stock
Email to a friend
Related Products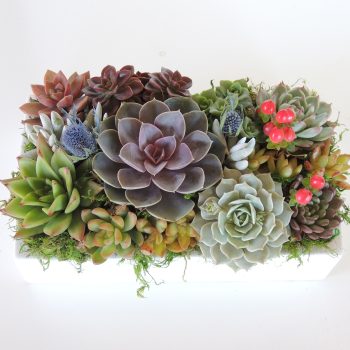 Created in a rectangular ceramic box (12" x 7" x 3") or a square (9.5 x 9.5 x 4).  
$

140.00
Add to cart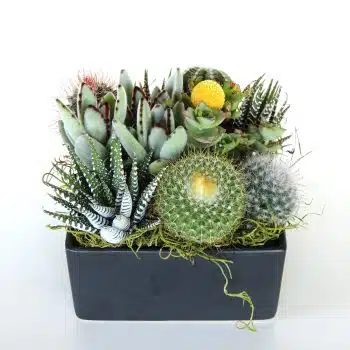 Green Gift Succulent Arrangement-Low Light Succulents Succulent arrangement composed of haworthias, kalonchoe tomentosa or panda plant, cactusa and crassulas is better suited for longer living in an indoor environment. Ceramic container measures 5.5 x 5.5
$

64.95
Add to cart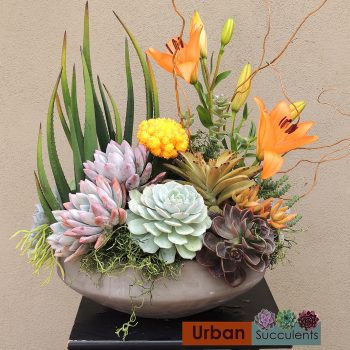 The container measures about 17 inches long for the boat shape or 14 inches in diameter for the round gray vessel. The theme can either be a desert with cacti and aloes or succulents with echeverias.
Delivery included in the central San Diego area.
$

270.00
Add to cart