$87.00
Price Includes Shipping
3 Arrangements for picnic benches 8 feet long $41 each
   (cluster of 4 glass votives with moss and succulents)
These will be delivered with the following:
   ..
1 large hair comb
1 Boutonniere
5 Arrangements for picnic benches 8 feet long $41 each
   (cluster of 4 glass votives with moss and succulents)
8 Arrangements for smaller tables (about 3×3) $10.00 each
     Four -inch container with a single succulent.
 light blue/red,
Email to a friend
Related Products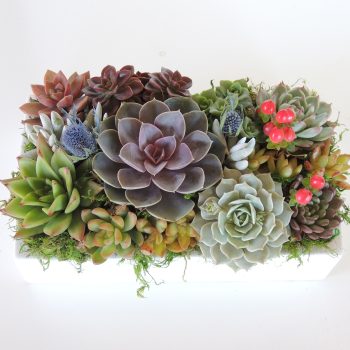 This centerpiece features a large Perle Von Nurnberg surrounded by a variety of succulents, crespedias (billy balls - seasonal) statice and moss.  It can be kept indoors or outdoors and needs little care. Lots of natural light and occasional watering make it an ideal addition to any space. Created in a rectangular ceramic box (12" x 7" x 3") or a square (9.5 x 9.5 x 4).  
$

140.00
Add to cart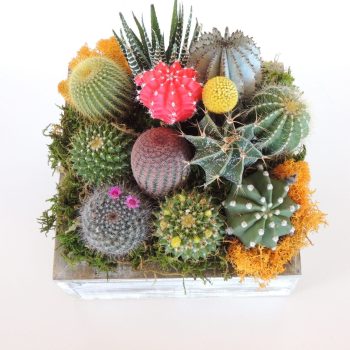 Created in a 7 x 7 wooden box this cactus centerpiece has a variety of cactus and accented with colorful moss.   This arrangement can be displayed indoors or outside.  This is a great way to say "thinking of you" or "thank you"! A plastic lined wood box without drainage needs watering about every other week in summer and less in winter. Protect the composition from excessive rainfall and rotate on a regular basis to balance light exposure. Box measures 7.5 x 7.5 x 4
$

89.95
Add to cart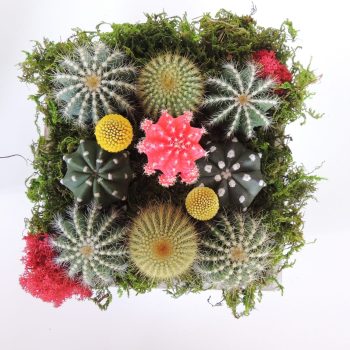 Created in a wooden box this centerpiece has a variety of cactus including a colorful grafted cactus and is accented with colorful moss.   This arrangement can be displayed indoors or outside.  This is a great way to say "thinking of you" or "thank you"! Box measures 7.5 x 7.5 x 4
$

89.95
Add to cart