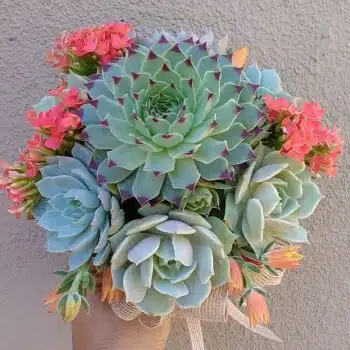 $

125.00
Price does not include shipping.
Succulent wedding bouquet created with echeveria hen and chicks.
This bouquet is created with 7 2-inch succulents and a few splashes of color from statice flowers or kalonchoe blooms.
The stems are wrapped in natural fiber ribbon, twine, or white satin ribbon. You may choose your colors.
Bridal Bouquet measures approximately 9 inches in diameter. $185.00
Maid of honor bouquet (featured in pictures) measures approximately 8 inches in diameter. $155.00
Bride's maid  measures 7 inches. $135.00
Please call or e-mail me for specifics -colors and size
Add to cart
$

128.00
$55 Cactus Arrangement in Wood Box To: Ms. Marisa Sympson 553 Carrie Circle, San Marcos CA 92069 Message: Marisa, Thinking of you at Emily's birthday. She lives on in our hearts. Hugs & much love, Mom & Frank
$34.95 Oval Arrangement To: Mrs. Barbara Ercanbrack 10 Le Conte, Laguna Nigel CA 92677 Message: Barbara, Thinking of you at Emily's birthday. With love, Diana & Frank
 $39 Succulent Arrangement in Ceramic Container – Dani To: Ms. Barbara Louise 2065 Caraway Street, Escondido CA 92026 Message: Barbara, Sending you our hugs and sympathy. Your sweet mom will live on in your heart forever. Much love, Diana & Frank Sincerely, Diana
Add to cart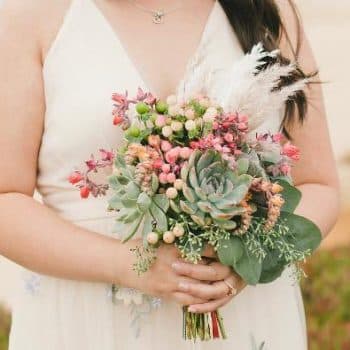 $

245.00
1 Bridal bouquet with $165.00 Color accents in peach/coral from the berries and succulent blooms with eucalyptus & some kind of feathery grass.
1 Matching boutonniere $20.00
3 boutonnieres $60.00
Shipping to Oxnard $16.00
Add to cart