Add Desert-inspired Beauty to Your Living Room with Succulent Plants
Succulents such as Agaves and Cacti are ideal choices for living rooms because they do well in warm interior environments. This is good news for homeowners and renters, since succulents will need little maintenance to stay healthy. If you're looking for a unique way to brighten up the look of your living room, why not boost visual impact with succulents? These tips will make it easy for you to create exciting new living room home decor effects, just by adding some affordable and attractive succulent plants.
Group a cluster of agaves on your coffee table
Agaves are fine choices for display on coffee tables. One example is the Agave Victoriae-Reginae species, which is compact enough to be a practical choice for interior decorating. This plant features leaves that grow upright and have dark spines. This plant will grow to a maximum height of about ten inches. While this smaller plant may lack the majesty of the much-larger Agave Americana, according to Production.edenproject.com, it's still very beautiful. To decorate your coffee table with Agave Victoriae-Reginae plants, find pretty pots and containers and display the plants in a cluster on your coffee table. Another idea is to find a space in your home, such as a bookcase or entertainment unit, and place the plants on one shelf of the unit.
Place vintage pots filled with cacti on the windowsill  
The design experts at Architecturaldigest.com recommend choosing the dazzling Gymnocalycium cactus for living rooms or other parts of the home. This cactus is compact and it's indigenous to Argentina. When you take good care of your Gymnocalycium (and this won't be hard to do), you'll adore the way that it blooms during springtime and summertime. Some people call this plant the "chin cactus'. It's got an attractive, rounded shape and plenty of spikes.
When it blooms, a gorgeous flower in shades ranging from pale primrose to deep saffron will appear on top. To show off chin cacti, buy three or four of them and then arrange them in an eclectic assortment of pots, such as a cluster of vintage designs that you've sourced from a local flea market. Then, place them on your living room window sill, or near your living room fireplace, if you have one.
Show off larger cacti behind your couch
Add Southwestern style to your home by placing two or three large cacti in clay planters behind your couch. When you do, you'll create a new focal point that brightens up your living room and gives it character and charm. To get the whole look, consider adding a couch cover in a terracotta shade. If you don't want to invest in a couch cover, find a Navajo throw blanket and display it on your sofa. A selection of San Pedro cacti will work very well behind a sofa.
You'll love decorating with succulents
When it comes to decorating with succulents, it's best to your favorite of these tips, rather than all of them at once. However, the scale of your living room will dictate how many succulents should be on display. Smaller rooms do better with smaller succulents, and vice versa. Know that you know how to make your living room more beautiful with these desert plants, why not add them to your home living room?
By Cassie Steele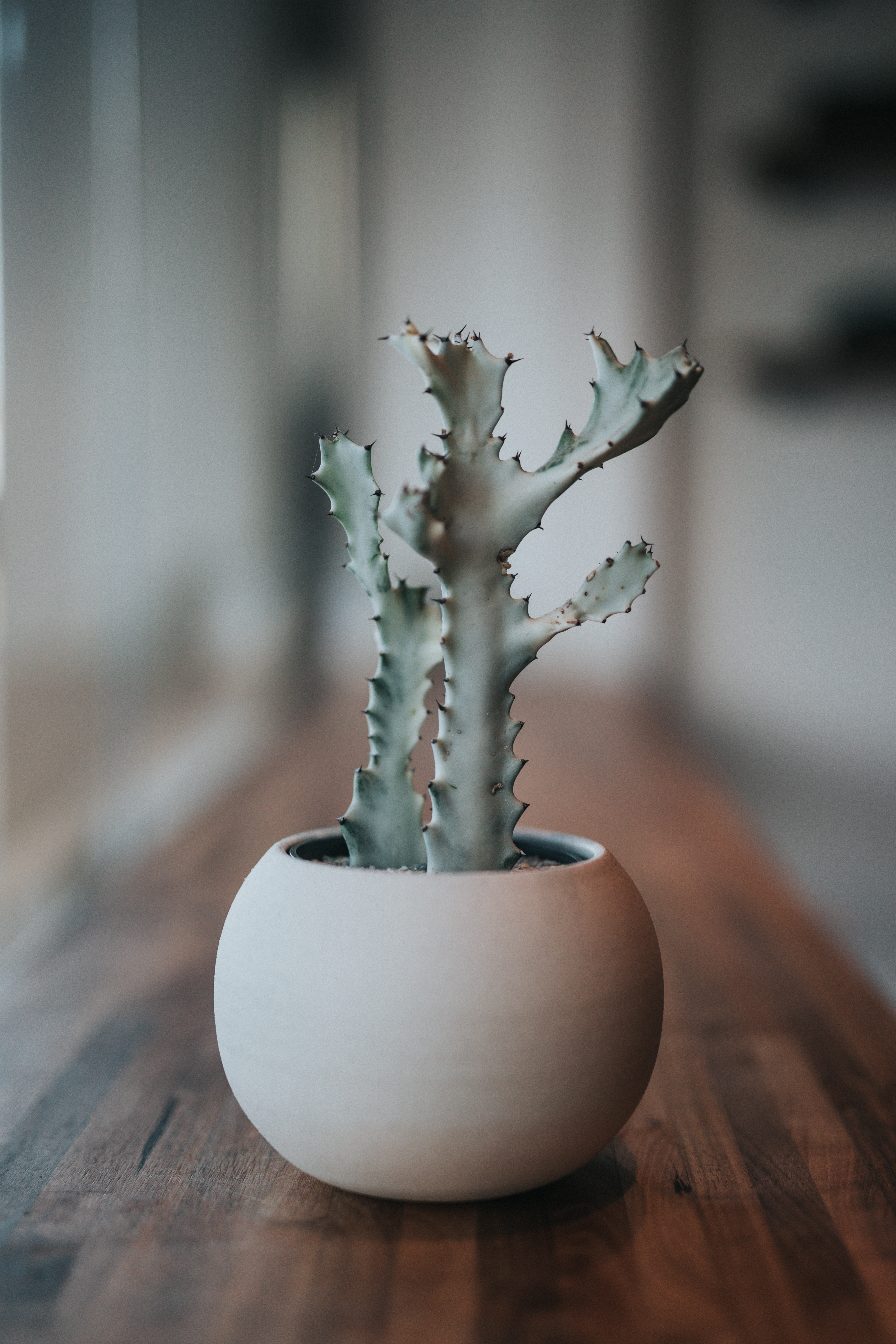 Succulents Are The Perfect Gifts For Millennials, And Here's Why
It's no surprise that succulents take up two of the coveted spots on the Top Four Houseplants Trending on Pinterest. The first category is in the terrarium slot and succulents are known to thrive in these mini-ecosystems. The second is in the category of cacti, which happens to be part of the succulent family. For millennials, the succulent is the perfect plant to provide visual interest as it's just so hardy. But it's not just the owner's inability to kill the succulent that has millennials lining up at the nursery for them, as these fleshy florals tend to have a few other exciting features too.
Millennials Are Mindful Of What They Spend Their Money On
It may come as a surprise that only 42% of millennials have indicated that they wish to have children. Research suggests that the reason behind this decision is not that they don't like children, but rather that the financial stress that comes along with it is too much to bear. Millennials, therefore, won't spend money on masses of plants that are nothing short of a financial disaster when they die. Don't expect to see a Shenzhen Nongke orchid or a Juliet Rose in a millennial's house. Low maintenance and low cost are two things that make the succulent a winner.
Indoor Gardening Is A Hit
Of the 6 million people who have taken to indoor gardening, millennials make up a cool 5 million. This is due to the convenience of indoor gardens, especially for renters who don't necessarily want to invest in gardens that are not their own. Indoor gardens also happen to work for those who have small outdoor spaces or who live in high rises. Succulents don't need a lot of care or attention, and when they are placed in a good location, they tend to thrive well on their own.
The Gift That Keeps On Giving
Succulents tend to propagate easily, which means before long little shoots start coming up and the owner can replant into another container. Succulents grow in anything from vintage teacups to a ceramic bowl. For the millennial, this is the ideal chance to get creative and decorate their entire space with what was initially a single plant. This can also be potted and wrapped to serve as a gift for someone else.
Succulents provide millennials with the means to propagate their indoor gardens without too much of a financial commitment. They also happen to be a treat to look at.
By Cassie Steele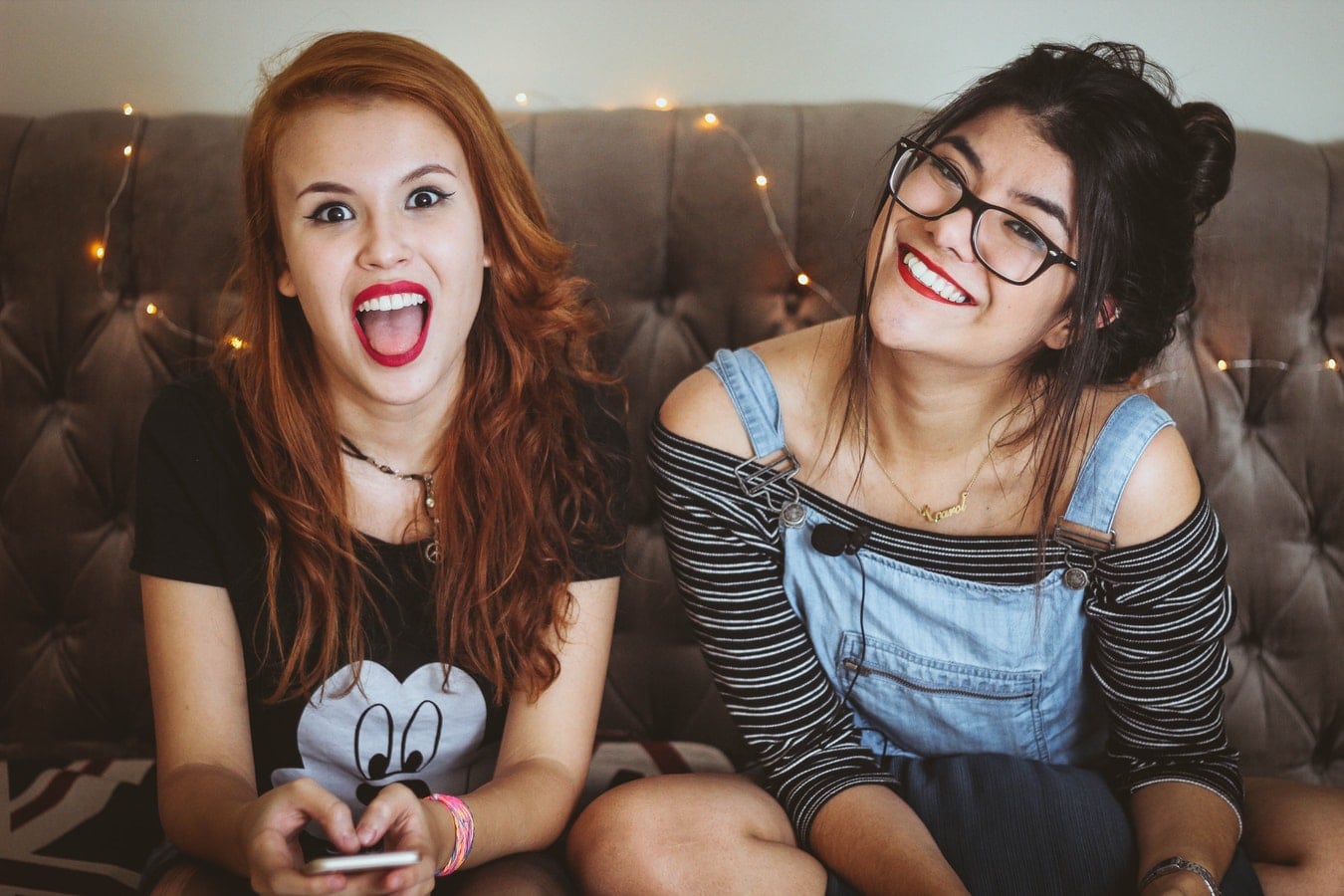 Photo by Matheus Ferrero on Unsplash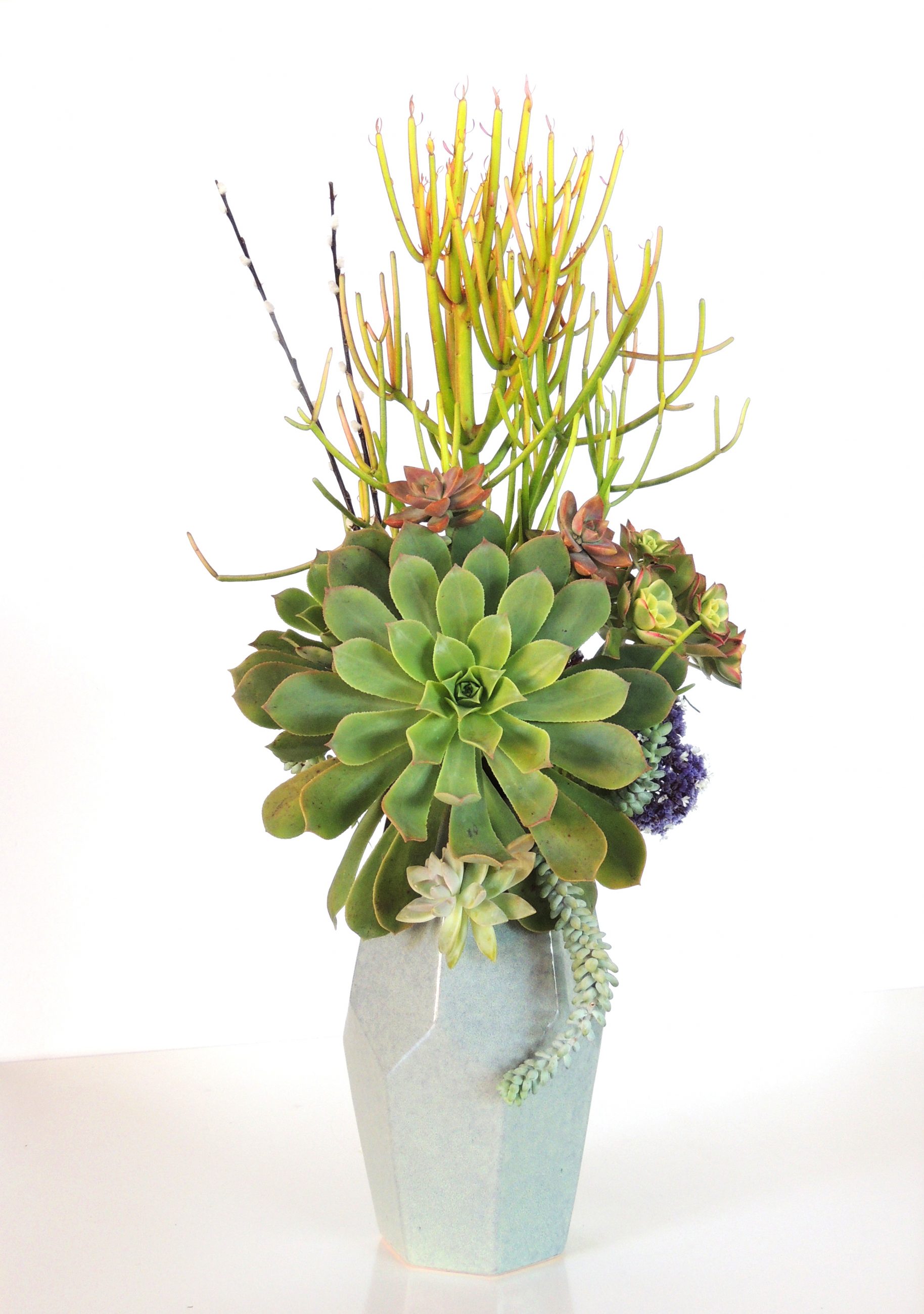 Aeonium kiwi, aeonium arboreum, sticks on fire-euphorbia tirucally
~ Develop your own style. Your work should be different enough that it says YOU. Use your website to showcase your individual style. Visit the websites of Dalla Vita in Santa Barbara, Marialuisa Kaprielian of Succulently Urban, and Cindy Davison of The Succulent Perch. They have methods and approaches to design that are uniquely theirs yet are immediately recognizable to people in the biz (like me). On Instagram, look at designs by @FairyBlooms and @LeafandClay. Be able to replicate the work of a designer you admire, analyze why you like it down to the last detail, and figure out how you might make it even more practical or appealing.
By Debra Lee Baldwin – Posted in: Succulents
William said…
INCREDIBLE! (YES, I'M USING CAPS BECAUSE I'M YELLING!!!) We had to dump our local florist last minute. Less than 2 weeks before out wedding. We called Succulently Urban and the owner was super helpful and said she could get us an order quick. We placed our order on a Tuesday, paid for it on Wednesday and had it on a Friday. I could not believe how easy it was!! The pieces were exactly what we asked for. They were incredibly beautiful and we got a ton of compliments on them. The bride's bouquet is currently replanted as well which I think what makes succulents a really neat idea for bouquets. All the bridesmaids planted theirs too! I CANNOT RECOMMEND SUCCULENTLY URBAN HIGHLY ENOUGH!!!
Wedding: 10/08/2016
Services Used: Flowers
Reviewed On: 10/24/2016
We are excited for this new year of weddings and are looking forward to creating new styles of bouquets with the beautiful succulents that grow in southern California, the backyard of our business where the largest selection of succulents grow in the country.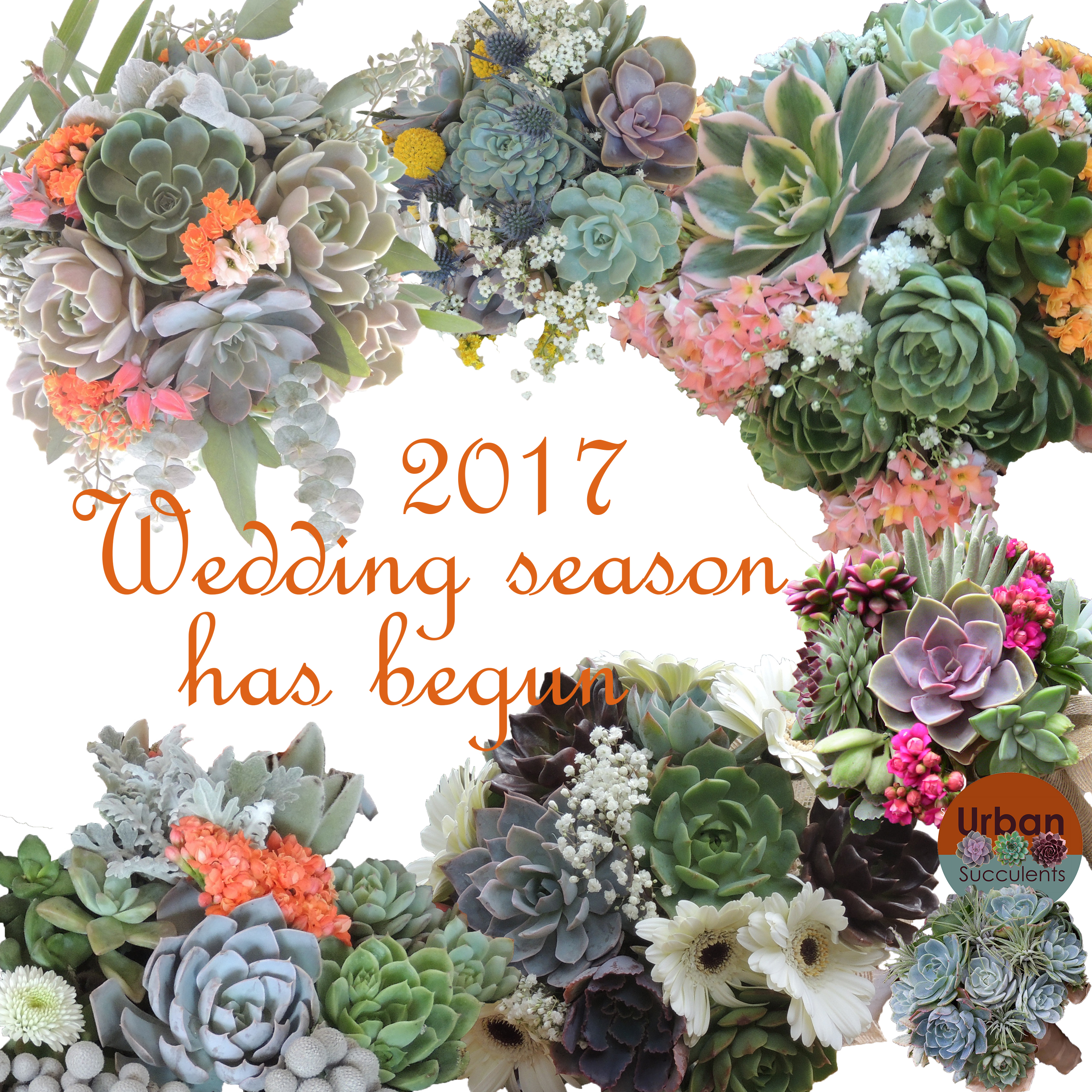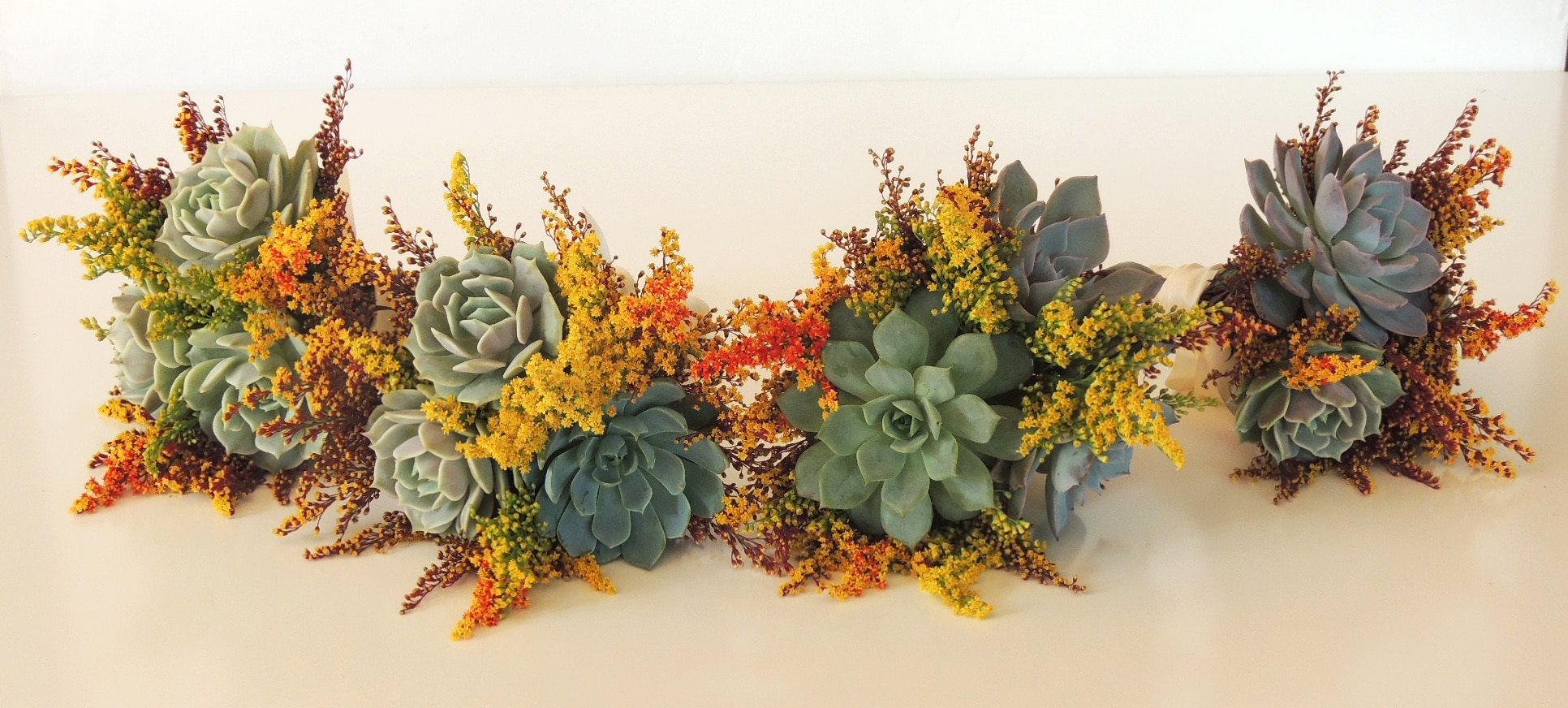 Urban Succulents is a Southern California company located in San Diego, recognized throughout the U.S. for its ideal weather for growing and producing succulent plants.  It's a perfect HQ for us here at Urban Succulents.
Urban Succulent's mission is to create living arrangements using only the finest locally sourced succulent plants. All of our succulent arrangements, wreaths, gift boxes, bouquets and other items are made to order so they are fresh when the recipient receives them.  At Urban Succulents, we believe receiving a living arrangement or a bouquet, that can be replanted, can bring a lot more enjoyment than cut flowers that last only a few days. It's like the gift that keeps giving, or growing in this case.
Whether it's a corporate event, gala, wedding or even a baby shower, Urban Succulents can create something that's living, beautiful and doesn't require a lot of care.   We also offer a selection of client gifts including arrangements, wreaths and succulent plant assortments that can make your company stand out from the standard box of chocolates crowd for special occasions or Holidays.
Urban Succulents owner/designer Marialuisa can create custom designs for your next event; whether it's large or intimate.  You can e-mail her directly at [email protected] to discuss how we can create something special for you.
We look forward to working with you!
Urban Succulents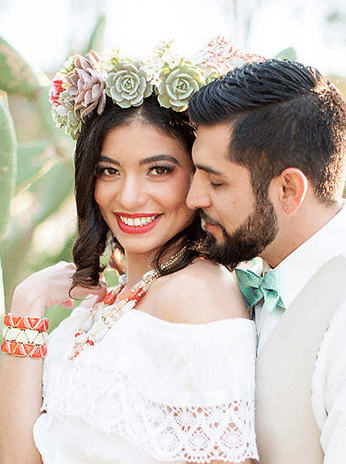 https://www.friartux.com/blog/7787#.VuGS3fkrLcs