A succulent heart wreath makes a great Mothers Day gift or a "Thinking of You Gift".  At Urban Succulents we make our succulent wreaths by hand using a wonderful selection of succulents.  Succulents are hand wired onto  a bed of moss that is either on a wire or grape vine frame.  Succulents are able to root onto the moss and grow.  These succulent wreaths are easy to care for.  All they need is morning or afternoon sun and weekly watering.
Urban Succulent's 10 Succulent Bouquets that Inspire!
When searching "succulent bouquet" on line you often see bouquets with lots of foliage, flowers and a single succulent or a bouquet that is deemed visually "succulent".  At Urban Succulents a succulent bouquet is one that is made with lots of beautiful succulents that are the focal point of the bouquet, not an afterthought.
It can be all succulents, or many succulents mixed with other flowers or succulents accented with greenery.  What's great about succulents is they provide beautiful rosettes, geometric shapes, texture and varying colors from deep purple to soft blues and greens.  We have found the biggest challenge with creating a succulent bouquet is the possibilities are endless.
Here are 10 bouquets from Urban Succulent that say "Succulent Bouquet"
This festive bouquet features a spray of foliage crafted with spiral eucalyptus and bright acacia greenery that provides an airy but full look.  We created it with soft tones of blue and purple echeveria succulents (blue subsessilis, perle von nurnberg, debbie and sempervivum. Gypsophila and purple statice was used for texture.
This bouquet has mix of succulents ranging from echeveria lola, echeveria ramillete, hen and chicks, aeononiums with yellow centers and deep red pinkish outlines, chocolate soldier which has a soft velvety texture. To accent this bouquet we included crespedias (billy balls).
Soft pastel colors give this bouquet a tender charming feel.  It is comprised of powder blue echeveria subsessilis and green ramillette, violet queen and others.  The bouquet is complimented with blue thistle, purple misty, and various seasonal aeoniom blooms.
This eye grabbing succulent bouquet includes blue-green minima succulents along with other complimentary pastel echeverias.   To give it texture we added babies breath, white coffee berries, and bent lilly grass for a modern twist.
Who says air plants can't be in a bouquet?  While this bouquet has lots of Tillandsia (air plants) it still has a bit of heft with a nice selection of echeveria succulents in different hues of blue and green.  Scaviosa seed pods were added for texture.
This eye grabbing succulent bouquet includes blue-green minima succulents along with other complimentary pastel echeverias.   To give it texture we added babies breath, white coffee berries, and bent lilly grass for a modern twist.
Succulents and sola flowers make an awesome bouquet that's complex and yet simple.  We take a great mix of soft toned blue, green and purple echeveria succulents and add white sola flowers along with one of our favorites (blue thistle).  This bouquet will look great any time of the year.
For a bold statement go with this bouquet with rich hues ranging from yellow to bright green and light blue and purple, deep orange ochre spotlight an aoenium zwartz succulent. Contrasting to the deep purple of the aeonium is a golden luminous yellow dahlia long with strings of pearls.
You are wearing white and want your bouquet to stand out.  How about a stunning burgundy and blue succulent bouquet? We made this bouquet with powder blue and light green succulents and added white and pink misty for texture and spray. Burgundy carnations and amaranth are what make the bouquet pop.  For spay we included spiral eucalyptus and eucalyptus berries.
This non-traditional bouquet offers clean lines and creates a beautiful backdrop to highlight the beauty of three succulent rosettes.  We start with Aspidistra leaves, which create a smart deep green backdrop to display three stunning succulent rosettes . The succulents are surrounded by a mix of pink statice and lavender limonium.
This succulent bouquet includes cactus to give it a spring time in the desert feel.  To create this bouquet we used a variety of powder blue and light green echevaria succulents.  This bouquet boasts mini barrel cactus reminiscent of a pleasant desert garden. The succulents and cactus are accented  along with yellow and orange Calandiva flowers that resemble cactus blooms. To round out the bouquet we added dollar Eucalyptus leaves and white misty.  This bouquet would be at home from Joshua Tree to the California coast.
Classic and understated mix of muted gray-green toned echeveria rosettes. The bouquet is texturized with silver berzelias that harmonize  with light gray dusty miller leaves. A collar of silver dollar eucalyptus holds the ensamble together.
Long Lasting Flower Arrangements
Timed perfectly for Mother's Day and June weddings, now on newstands nationwide is my article featuring San Diego floral designer Marialuisa Kaprielian of Urban Succulents. Below are a few of my photos from the day of the shoot. (I expedited the shoot and wrote the article; Ed Gohlich photographed it.) The cover is at left.


Read More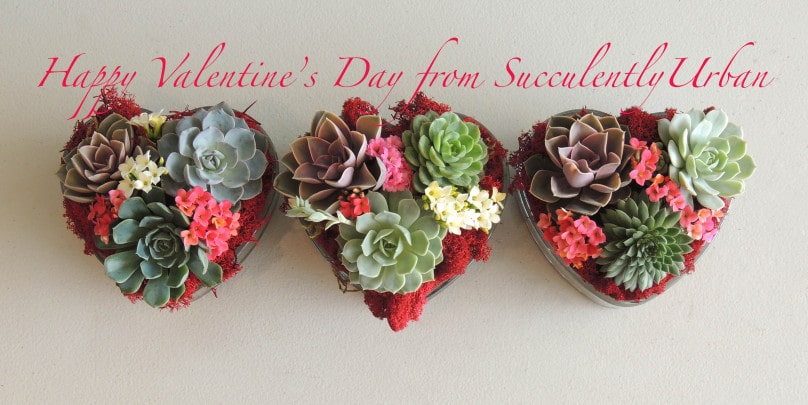 I am creating succulent Valentines Day arrangements in heart shape dishes. These are an original alternative to the bouquet of fresh roses, they are just as meaningful and full of sentiment as flowers 0r Read More
Succulent Gift Basket
Looking for a different kind of holiday gift?  How about sharing the beauty of succulents with family, friends or business clients?
We thought it was time to provide an alternative to cookies and chocolates so Urban Succulents has created a holiday gift basket of premium succulents for you to enjoy and share.   Each basket comes with a wonderful variety of premium Echeveria succulents that are grown in Southern California.   Depending on the gift basket you select, each succulent will come in either a plastic growing pot, which can easily be replanted into another container or in individual terracotta pots which are ready for any flat surface or window.
Besides being beautiful and unique, succulents are easy to care for.  A little water and lots of natural light and they will be happy.
In our gift baskets, we decorate each succulent with colorful tissue paper for a festive holiday appearance.  If you need a gift card, let us know and we will include one.  To order your gift basket visit www.succulentlyurban.com
We can hold an order for whenever you want them delivered or ship them immediately.  We shrink wrap all of our gift baskets and ship them via priority mail 2 to 3 day delivery.
Happy Holidays!
How to replant your succulent bouquet by Sunset Magazine
You might want to view a video I made with tips on how to make succulent party favors: