Long Lasting Flower Arrangements
Timed perfectly for Mother's Day and June weddings, now on newstands nationwide is my article featuring San Diego floral designer Marialuisa Kaprielian of Urban Succulents. Below are a few of my photos from the day of the shoot. (I expedited the shoot and wrote the article; Ed Gohlich photographed it.) The cover is at left.


Read More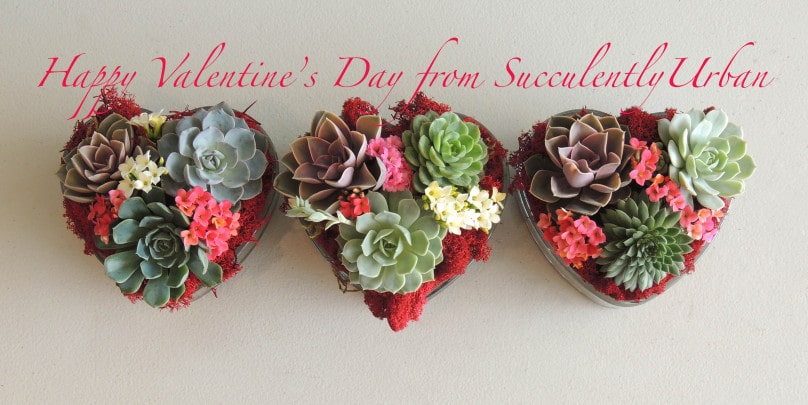 I am creating succulent Valentines Day arrangements in heart shape dishes. These are an original alternative to the bouquet of fresh roses, they are just as meaningful and full of sentiment as flowers 0r Read More
Succulent Gift Basket
Looking for a different kind of holiday gift?  How about sharing the beauty of succulents with family, friends or business clients?
We thought it was time to provide an alternative to cookies and chocolates so Urban Succulents has created a holiday gift basket of premium succulents for you to enjoy and share.   Each basket comes with a wonderful variety of premium Echeveria succulents that are grown in Southern California.   Depending on the gift basket you select, each succulent will come in either a plastic growing pot, which can easily be replanted into another container or in individual terracotta pots which are ready for any flat surface or window.
Besides being beautiful and unique, succulents are easy to care for.  A little water and lots of natural light and they will be happy.
In our gift baskets, we decorate each succulent with colorful tissue paper for a festive holiday appearance.  If you need a gift card, let us know and we will include one.  To order your gift basket visit www.succulentlyurban.com
We can hold an order for whenever you want them delivered or ship them immediately.  We shrink wrap all of our gift baskets and ship them via priority mail 2 to 3 day delivery.
Happy Holidays!
How to replant your succulent bouquet by Sunset Magazine
You might want to view a video I made with tips on how to make succulent party favors:
Visiting with Robin Stockwell, owner of Succulent Gardens http://sgplants.com/
and creator of the succulent globe- very friendly and warm succulent fanatic, I am happy I had a chance to collaborate on the succulent extravaganza 2013.
We wanted to go "green" with our wedding flowers – and we are so happy we did! The terrariums centerpieces & party favors, bouquets, necklaces (yes, necklaces!) boutennierres and corsages that Marialuisa created were amazing and fabulous! We completely trusted her artistic eye and knew that she would creat the most amazing pieces and she did exactly that – well MORE than that…Marialuis created MASTERPIECES!
http://local.weddingchannel.com/Wedding-Vendors/Succulently-Urban-profile?ProfileId=582866&ReviewId=696413
Please follow the link for Symptoms & Solutions
Message from Timber Press: As easy as succulents are to grow, they are not, sadly, invincible. If a succulent you know is having a hard time, consult this handy guide on our Timber press blog:
R.I.P. One neighbor and the Department of Urban Forestry say you will be gone.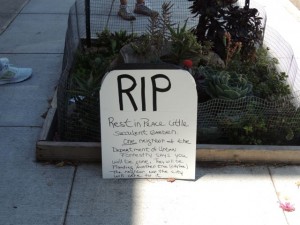 Please contact the Department of Urban Forestry to stop this evil request by a neigbor in the corner of Lombard Street and Stockton in San Francisco, CA.
http://www.sfdpw.org/index.aspx?page=644
The Department of Public Works
Bureau of Street Use and Mapping
1155 Market Street, 3rd Floor (Map)
San Francisco, Ca 94103
(415) 554-6700