$2,090.00
32 – 5″ x 5″ Wooden Box Succulents- mix of colors to help brighten up the space $960.00 plus shipping
10 – 7.5″ x 7.5″ Cactus and Echeverias Gardens $650.00 plus shipping
8 – 7″ x 7 Summer Wood Box Succulents $480.00 plus shipping
Shipping via Fed Ex two day air $475.   We would ship them on Saturday June 23 for a Monday June 25 arrival.  Let me know if you have any questions or need additional information.
Email to a friend
Related Products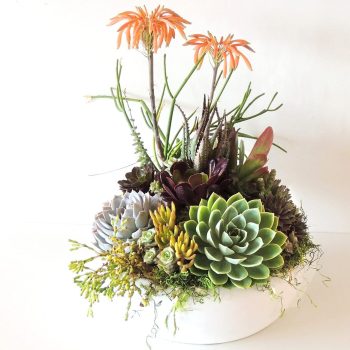 The container measures about 14 inches in diameter.  It can either be a desert theme with cacti and aloes or succulent with echeverias arrangement.
San Diego pick up or delivery only.
Delivery included.
$

185.00
Add to cart