$2,090.00
32 – 5″ x 5″ Wooden Box Succulents- mix of colors to help brighten up the space $960.00 plus shipping
10 – 7.5″ x 7.5″ Cactus and Echeverias Gardens $650.00 plus shipping
8 – 7″ x 7 Summer Wood Box Succulents $480.00 plus shipping
Shipping via Fed Ex two day air $475.   We would ship them on Saturday June 23 for a Monday June 25 arrival.  Let me know if you have any questions or need additional information.
Email to a friend
Related Products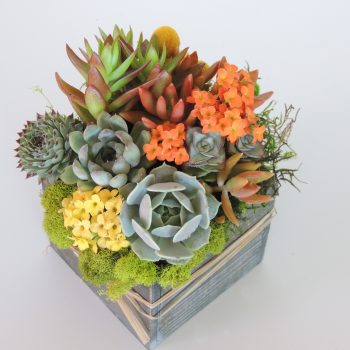 This table top succulent arrangement comes with mixture of seasonal rooted succulents in a 5" x 5" wood box.  We accent it with colored moss and/or flowers. 
Note: There are differences in the pieces we ship depending on what succulents are in season or available. If you prefer certain accent colors please let us know by leaving a note at checkout indicating your  preference.  We offer succulent delivery throughout the U.S.A for this item.
$

43.95
Add to cart