$2,311.00
4 boutonnieres as pictured by client in above e mail $75.00




2 more simple  




2 with more rosemary and maybe seeded eucalyptus   

Perfect! "Simple" should be 2 or 3 billy balls and maybe even nothing else, and the grooms should be same with tiny rosemary sprig and  a small seeded eucalyptus. (Only if it looks good) Stems wrapped, please no twine as it was in one of the pictures.

3 5′ garlands for round tables to be used to wrap around hurricanes with candles provided by client these will match the arrangements bellow $127.00- total $381.00

Perfect, yes!
9 arrangements similar to the ones we saw at the venue with

clusters of solidago Golden ranunculus  or Yellow mums

and

billy balls they will include blue- gray tone echeveria rosettes. The pepper tree trails out, along with eucalyptus and a few echeveria rosettes trailing out too,  just as they get farther from the middle.
Total length is 6 feet.

$135.00 each – total $1215.00
2 arrangement for the barrels at the ceremony site crafted with eucalyptus, gerbera daisies, willow branches, solidago and few echeveria sunburst- foliage to hang over the edge of the barrels $120.00 each -$240.00

2 Arrangements for the cocktail bar smaller versions of the above $75.00 – Total $150.00

Can you use any branches (Yes this are the willow Branches) as in this photo below to give height.

Loose aeonium sunbursts to be placed in a couple of clusters (five 5-7 inch rosettes) or trialing up along the sides of the arbor (just at the area of a persons height) a few large gerbera daisies peppered in between. $145.00
Email to a friend
Related Products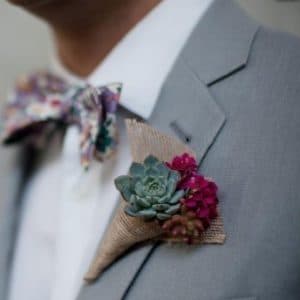 Crafted with wide jute ribbon please leave a note at checkout with color of your choice.
$

20.00
Add to cart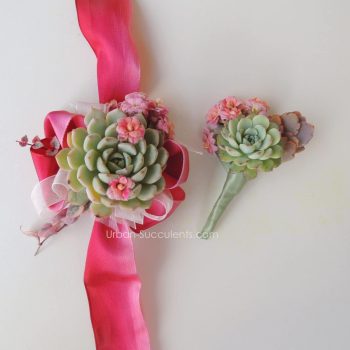 Succulent Boutonniere and Corsage set Choose your style and color theme. Color can be added with ribbon or flowers fillers. When ordering on line please leave a note at checkout with picture number of your preference.
$

40.00
Add to cart